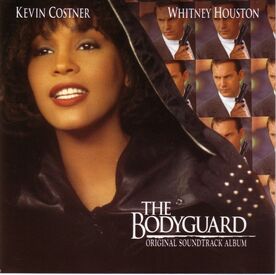 The Bodyguard: Original Soundtrack Album is the movie soundtrack from "The Bodyguard" starring Whitney Houston. The soundtrack was released on November 17, 1992 on Arista Records.
Album Background\Production
Edit
Tracklisting
Edit
I Will Always Love You (4:31)-[written by Dolly Parton]-(performed by Whitney Houston)
I Have Nothing (4:48)-[written by David Foster & Linda Thompson]-(performed by Whitney Houston)
I'm Every Woman (4:45)-[written by Nickolas Ashford & Valerie Simpson]-(performed by Whitney Houston)
Run To You (4:22)-[written by Allan Rich & Jud Friedman]-(performed by Whitney Houston)
Queen of The Night (3:08)-[written by Whitney Houston, L.A. Reid, Babyface, & Darryl Simmons]-(performed by Whitney Houston)
Jesus Loves Me (5:11)-[written by Anna Bartlett Warner & William Batchelder Bradbury]-(performed by Whitney Houston)
Even If My Heart Would Break (4:58)-[written by Franne Golde & Adrian Gurvitz]-(performed by Kenny G and Aaron Neville)
Someday (I'm Coming Back) (4:57)-[written by Lisa Stansfield, Andy Morris, & Ian Devaney]-(performed by Lisa Stansfield)
It's Gonna Be a Lovely Day (4:47)-[written by Bill Withers, Skip Scarborough, Robert Clivilles, David Cole, Tommy Never, & Michelle Visage]-(performed by The S.O.U.L. S.Y.S.T.E.M.)
(What's So Funny 'Bout) Peace, Love, and Understanding (4:04)-[written by Nick Lowe]-(performed by Curtis Stigers)
Waiting For You (4:58)-[written by Kenny G]-(performed by Kenny G)-[song not available on U.S. album version]
Trust in Me (4:12)-[written by Charlie Midnight, Marc Swersky, & Francesca Beghe]-(performed by Joe Cocker featuring Sass Jordan)
Theme from The Bodyguard (2:40)-(performed by Alan Silvestri)
Personnel
Edit
Album Chart Performance
Edit
Ad blocker interference detected!
Wikia is a free-to-use site that makes money from advertising. We have a modified experience for viewers using ad blockers

Wikia is not accessible if you've made further modifications. Remove the custom ad blocker rule(s) and the page will load as expected.